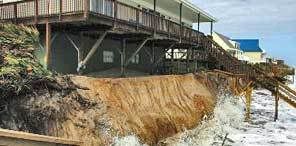 County Engineer Darrell Locklear reported some good news today for five families in jeopardy of having their homes wash into the Atlantic Ocean.
Gerry Stokes' home on Coastal Highway (SR A1A North) as well as the homes of four other families located north of Vilano Beach are covered under a local "state of emergency".
Now the north beach residents can apply to obtain the necessary permits to build a temporary (and later permanent) seawall to shore up their houses.
The erosion has been so severe that as much as three feet of earth beneath Stokes' foundation has been washed out to sea.
The residents have wanted to erect seawalls for some time and they are accepting full financial responsibility for the costs of filling and constructing the necessary reinforcements. Stokes will remain nervous until the work is complete; but this step taken by the county will pave the way for her permit to be approved within the next few weeks.
Share your thoughts with our readers >>