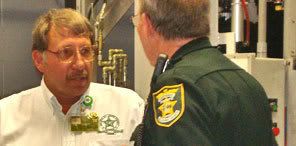 Media Relations Officer Kevin Kelshaw reported to Historic City News this morning that Detectives with the St. Johns County Sheriff's Office Violent Crimes Unit are investigating a possible "road rage" incident that occurred Thursday night.
Deputies responded to the parking lot of the Shell station at C.R. 210 where the victim and his wife were located at 11:35 p.m.
A 69-year old Palm Coast man had sustained a single gunshot wound to the upper left arm and county rescue personnel responded. The victim was transported to Baptist South Hospital where he was treated and released, according to Kelshaw.
The victim stated that he and his wife were driving southbound on I-95 when they observed a vehicle tailgating them in the area of 9A in Duval County.
The suspect vehicle then pulled along side the victims and swerved into their lane in an alleged attempt to bump them.
They then heard a loud noise of glass breaking and the victim slowed down and realized the sound was a bullet that went through the driver's window and struck him in the arm.
The couple drove to the C.R. 210 exit where they notified the Sheriff's Office.
The only description of the suspect's vehicle is that it was an unknown type red pick-up truck with an "OH" in the tag. There was also a dark colored older model sedan following the red pick-up.
The investigation is continuing.
Let us know what you think >>