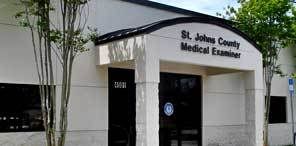 Detectives with the St. Johns County Sheriff's Office are continuing the investigation into the death of a 54-year old man Monday afternoon. The victim, identified as Douglas Bryan Walter, 54, was a St. Johns County resident.
The victim was found in burning pick-up truck at a county park off Vaill Point Rd. at 4:45 p.m. Monday.
Following an autopsy by District Medical Examiner, Dr. Terrence Steiner, preliminary findings revealed a self inflicted injury and no foul play suspected. There was also no pre-mortal injuries noted. Positive identification of the victim was made by Dr. Michael Domingoes of Anastasia Dental through dental records.
A final autopsy report is pending further testing. In addition, State and County Fire Investigators are continuing the investigation into the origin of the fire.
Share your thoughts with our readers >>