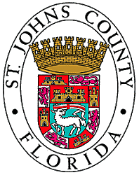 The St. Johns County Engineering Division has informed Historic City News that there will be two public meetings for upcoming projects.
The first meeting will be regarding a proposed project on Shores Boulevard east of Deltona Boulevard to replace a pipe underneath Shores Boulevard. This meeting will be on Tuesday, September 23, from 5:00 to 7:00 pm at the Riverview Club, located at 790 Cristina Drive.
The second public meeting will discuss proposed roadway improvements to West King Street between Travis Land and US Highway 1, a strip of approximately three-tenths of a mile. The West King Street meeting will be on Thursday, September 25, from 5:00 to 7:00 pm at Murray Middle School, located at 150 North Holmes Boulevard.
At each meeting, county staff will present information about the respective project and the public will be invited to get input.
For more information on the Shores Boulevard project, call Joan Anderson at (904) 209-0128.
For the West King Street Project, contact Nick Perpich at (904) 209-0136.
Share your thoughts with our readers >>