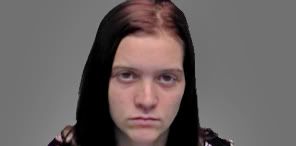 Historic City News has learned that 25 year old Alaina Croy was arrested yesterday afternoon on shoplifting charges at a local Wal Mart; her baby was turned over to a boyfriend and she was taken to jail according to Sgt. Charles E. Mulligan, SJSO Public Information Officer.
Loss Prevention Officers in the store observed Croy and her infant child in the company of 22 year old Jennifer Lynn Malicki as they removed more than a dozen DVD's from the store's shelves then headed into the public restroom.
Officers later discovered the packaging for the merchandise in the restroom garbage can. Croy and Malicki concealed the DVD's in a diaper bag and made their way to the sporting goods department.
Croy was observed taking a large amount of fishing line and Malicki was observed taking two boxes of golf balls, all of which was concealed with the DVD's in the diaper bag.
As they attempted to leave the store without paying, they were detained by loss prevention officers with merchandise totaling over $500.00.
Deputy Sheriff Jason Briggs was called to the scene and arrested the two adults. At Croy's request, her child was turned over to her boyfriend; as she and Malicki were taken to the county jail – each charged with felony retail theft.
Share your thoughts with our readers >>