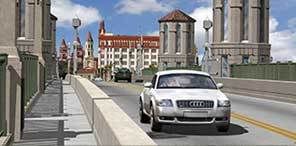 Historic City News received an update this morning on Saturday's 7:30 a.m. running of the New Bridge of Lions 5K Race.
Cathy DuPont in the Office of Public Affairs reported that this year's event will necessitate some minor interruptions of traffic along the city's Bayfront, the Bridge of Lions and various streets in Davis Shores north of Anastasia Blvd.
The race begins on Avenida Menendez at the entrance to the Castillo de San Marcos National Monument and then continues south on a route to include the Bridge of Lions, St. Augustine Blvd., Inlet Dr., Arpieka Ave., Zorayda Ave., Oglethorpe Blvd., Comares Ave., Flagler Blvd., and Alcazar St. ending at Oglethorpe Park.
St. Augustine Police will monitor key points to facilitate vehicular traffic and ensure the safety of the race participants.
The event is a benefit for the Louis Argitis Jr. Foundation for Challenged Children.
Share your thoughts with our readers >>