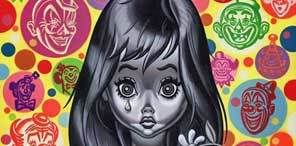 The Gallery at Screen Arts has advised Historic City News of the art exhibit opening, "No Refunds – The Art of Mitch O'Connell", taking place Friday June 6, 2008 from 6 p.m. until Midnight. Live DJs will be spinning music for the duration. Refreshments to appease the American palate will be served. The show will run through July 31, 2008.
According to the announcement, Mitch O'Connell is a beloved hanger-on of the "Lowbrow" art movement. His work has featured in magazines from Newsweek to Playboy, on CD's from The Supersuckers to Less Than Jake and exhibited from New York to Berlin.
O'Connell's tattoo designs are also a fixture on the walls of tattoo shops around the word.
In the artist's own words, "He's treasured for his sense of humor, especially when it comes to pricing his paintings. His "talk of the town" gallery openings are always a "hoot". Mitch is known for arriving in full costume and only speaking in "Klingon" for the entire evening. Likes include: keeping it real, letting it all hang out, doing his own thing and getting down. Dislikes include: gallery owners who favor artists whose work is "good" and "sells". My God, doesn't "good grooming" count for anything anymore in this crazy, topsy-turvy world?!"
The Gallery at Screen Arts is conveniently located at 228 W. King Street, 2 blks west of US Hwy 1 in Beautiful West St. Augustine. Motor vehicle parking is a breeze in our state of the art tarmac parking facility located directly across the street.
Gallery Hours are 9a to 6p Monday thru Friday. Saturdays and Sundays by appointment. After Hours appointments available upon request. Please phone 904-829-2838 or 800-826-4649 for more information.
Share your thoughts with our readers >>