Since 1999, Chuck and Karen Ponce along with Sandy Craig have operated the Old Florida Museum (originally known as Historic Villages of St. Augustine) at 254 San Marco Avenue in the location owned by TE-B-CO of St. Augustine; the Tebault family company that previously operated St. Augustine Trains.
Their attraction invited guests to explore Florida's pre-European past when Timucuan Indians inhabited the region and to get a feeling for what it was actually like to live and work in those times.
After Tebault sold the trains to Ripley Entertainment, what was for years known as "The Sugar Mill" remained on as the North City sightseeing train station as well as a mini-mall of assorted gift shops including the landmark sandwich shop; The Cheese Wheel.
The shops are nearly all vacant now, with the exception of The Cheese Wheel and the Old Florida Museum — who appear to have found a new home.
Construction is underway across the street at Yarbrough Leasing's property, 259 San Marco Avenue between Hildreth Drive and Park Avenue which was the site of the former NISSAN dealership and most recently one of the Wiles family companies — First Coast Financial Advisors.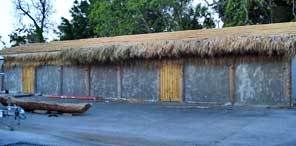 Soon you will be able to imagine yourself during the Spanish colonial era, drilling holes with pump drills, discovering 18th century amusements or even hand-dipping homemade candles in the newly refitted buildings. You can pretend you're an old-time Florida pioneer, writing with actual feather quill pens in a true-to-life pioneer homestead.
No word on what TE-B-CO intends to do with the property after the museum relocates; whether they have plans to sell the property to Ripley's, some other buyer, or, develop it themselves.
Photo credit: Historic City Media news photographer Kerry McGuire
Share your thoughts with our readers >>