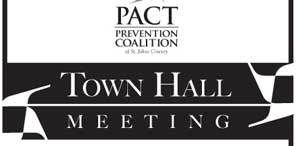 Adolescents use alcohol more than tobacco or illicit drugs in both St. Johns County and across the nation.
Almost one out of two St. Johns County high school students has consumed alcohol in the past 30 days and the average age at which they begin is 13 years old.
PACT Prevention Coalition of St. Johns County will sponsor the 2008 Town Hall Meeting: Exposing the Reality of Underage Drinking in St. Johns County from 7:00-8:30PM on Monday, April 7th at the St. Johns County Agricultural Center, 3125 Agricultural Center Drive, St. Augustine, FL 32092.
The program will include a panel of key community stakeholders sharing their expert and personal experiences relative to underage drinking. The confirmed panel of community members includes:
1.) Education: Joseph G. Joyner, Ph.Ed., Superintendent; St. Johns County Schools
2.) Judicial: The Honorable Clyde E. Wolfe, Circuit Court Judge, 7th Judicial Circuit
3.) Law Enforcement: David B. Shoar, Sheriff; St. Johns County
4.) Medical: Guillermo J. Pierluisi, MD, MPH, FACEP; Chief, Department of Emergency Medicine, Flagler Hospital
5.) Parent: Ms. Kelly Barrera, parent of two teenagers, St. Johns County
6.) Substance Abuse Prevention and Treatment: Ms. Patricia Greenough, M.Ed., CAPP, Executive Director; EPIC Community Services, Inc.
7.) Youth: Shane McWilliams, Senior, St. Augustine High School
8.) Youth Activities: Ms. Geralyn Sachs, 4-H Youth Development Agent, St. Johns County Extension
Audience members will be given the opportunity to participate in a question and answer period.
The 2008 Town Hall meeting serves as the kick-off to National Alcohol Awareness Month in order to raise the community's awareness of this epidemic. The 2008 Town Hall is sponsored by the PACT Prevention Coalition, a county wide coalition working to prevent and reduce alcohol, tobacco and other drug abuse in St. Johns County.
For more information visit www.pactprevention.org or contact Julia Kelly, 904-829-6261.
Let us know what you think >>