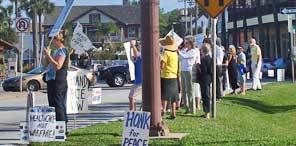 St. Augustine People for Peace and Justice, Grandparents for Peace and Veterans for Peace held a rally at the east end of the Plaza de la Constitución, this evening from 4:00 p.m. until 6:00 p.m.
About 30 people attended representing grassroots organizations who wanted to show their support as well as gain additional exposure for their various causes.
St. Augustine People for Peace and Justice was formed during the run-up to the Iraq war and has actively opposed what they consider to be the illegal and immoral war and occupation in Iraq.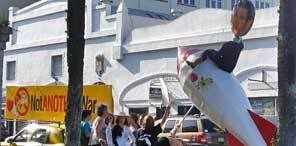 They are a loose coalition of local individuals and organizations working to end the war.
Their members, who are involved in a variety of local, state and national peace and justice issues, come together to oppose what they see as the most catastrophic action our government has taken since Vietnam.
According to the organization's website, members share the common belief that war is NOT the answer, and that through love, understanding and honest diplomacy, a peaceful world, free from exploitation, violence and unnecessary suffering, can evolve.
Local activists working in support of the United Farm Workers were scheduled to be distributing information at the same location.
Many vehicles passing through the congested intersection were waving and honking their horns at the protesters in response to their "Honk for Peace" signs.
Historic City Media photo credit: Kerry McGuire
Share your thoughts with our readers >>