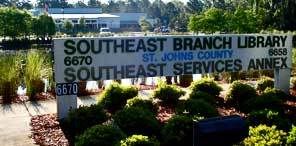 The St. Johns County Engineering Division will host a public meeting at the Southeast Branch Library, located at 6670 US Highway 1 South in St. Augustine to discuss the upcoming Pines Drainage Improvement Project, according to a notice received by Historic City News this afternoon.
The public meeting will be on Thursday, June 19, from 5:00 to 7:00 p.m.
The project location is to be east of and adjacent to Hidden Creek Estates on the north side of State Road 206 and east of US Highway 1.
The project will involve the design and construction of a drainage system to alleviate roadway flooding and potential structure flooding.
At the public meeting staff will provide information about the upcoming project and residents may give input and ask questions.
For information about the public meeting or the drainage improvements, contact Project Specialist Joan Anderson at (904) 209-0128.
Share your thoughts with our readers >>