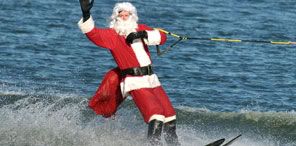 Historic City News will be on hand to cover St. Augustine's 54th Annual Christmas Parade Saturday, December 6th.
The parade has grown to be one of the largest parades in north Florida and includes floats, marching bands cars, horses, and the arrival of Santa.
This year, the parade will start promptly at 10 a.m. by the Mission of Nombre de Dios; continue through the downtown streets of historic St. Augustine and end behind the Visitors Center on Castillo Dr.
Pictures with Santa will follow in the Plaza de la Constitucion.
To help you plan your day, we have published the list of road closures, traffic detours and congestion areas that will be in effect during Saturday's events at http://www.historiccity.com/2008/12/02/saturdays-road-closures-and-traffic-detours/
If you haven't done so in past years, I recommend that you stick around town for the Grande Illumination – British Night Watch which begins at 7:30 p.m.
For more details of the day's events visit our report at http://www.historiccity.com/2008/11/25/grande-illumination-british-night-watch/
Growing up in St. Augustine, the holidays have always been special for me. It has always been an opportunity to see friends who travel back each year to visit with family and to see our city from its best point-of-view; on foot.
Enjoy this weekend's activities yourself and bring your friends and family along to start your own holiday tradition in St. Augustine.
Share your thoughts with our readers >>