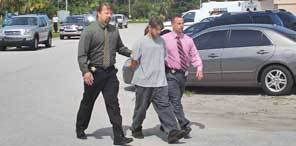 Historic City News was on the scene at the St. Johns County jail this afternoon when detectives with the Special Victims' Unit arrested a 21 year old former South Carolina man on five counts of capital sexual battery.
The investigation revealed that the suspect, identified as James Eugene Whaley Jr., was a friend of the family and moved to St. Johns County several months ago with the female victim and her family.
On five different occasions over the past three months, the suspect allegedly committed sexual battery on the victim — who is under 10 years old. The victim's brother reported the allegations to a family friend who notified the Sheriffs Office earlier today and detectives began the investigation.
The suspect was brought in for questioning and admitted the allegations to detectives. He was booked into the County Jail where he remains on no bond pending a first appearance hearing Wednesday morning.
Additional charges are pending further investigation.
Photo credit: Historic City News staff photograph.
Pictured from left: Detective Mike Hartsell, Suspect James Whaley Jr. and Detective Tom Marmo
Let us know what you think >>