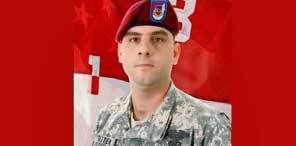 Historic City News was advised that on Wednesday, June 11, at 9:30 a.m., a ceremony will be held in the parking lot of the Whetstone Place Office Building, located between State Road 312 and Flagler Hospital, to officially unveil Sgt. Tutten Drive.
With the full support of the Whetstone and Genovar families and in honor of fallen soldier Sgt. Bryan Joseph Tutten, the Board of County Commissioners renamed the roadway formerly known as Whetstone Place to "Sgt. Tutten Drive" on May 27, 2008, according to the media advisory provided by Karen Pan in the Office of Public Affairs. Tutten died while in service to his country on Christmas Day, December 25, 2007.
According to a biography piece obtained from the Tutten family, St. Augustine native Sgt. Bryan Joseph Tutten spent a few years of his childhood living in Tennessee, Georgia, and Texas, but always considered St. Augustine his home.
After attending St. Joseph Academy, St. Augustine High School, and St. Johns River Community College, he spent several years working in his family's grassing company and in local businesses before embarking on the career that had been his dream since he was a young boy. That dream, influenced by many generations of military service in his family, and his own sense of duty to his country, was to join the army and wear the coveted green beret of the special forces.
Sgt. Tutten's awards and decorations include: the bronze star medal, the purple heart, the army good conduct medal with two gold loops, the national defense service medal, the iraq campaign medal, the global war on terrorism service medal, the army service ribbon, the combat infantryman's badge, and the parachutist's badge. He will be remembered as an exemplary soldier, devoted husband, father, son, and friend, and a man of great honor, deep faith, and enormous patriotism.
He is survived by his wife of ten years and high school sweetheart, Constandina; his children Catherine and Gareth; his mother and stepfather, Sylvia and Hoyt Smallwood; his stepmother Linda Tutten; stepsisters April and Audrey Smallwood and Ami Caswell; and numerous cousins, aunts, uncles, grandparents, and members of his wife's family.
Sgt. Tutten's father, Thomas "Tommy" Tutten, died rescuing a drowning swimmer at Vilano Beach.
Let us know what you think >>