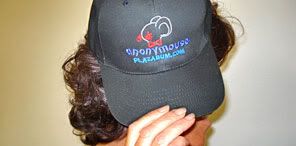 This is a follow-up to the Historic City News October 28, 2008, story "Local forum sparks humorous retort" including some of the good work that has been accomplished thanks to the plazabum.com community.
Over the past ten days since publishing the announcement, nearly five dozen "anonymouse" caps have been given away to anyone who participates in the discussion forums at plazabum.com or sold to others who learned about the tongue-in-cheek caps.
A local uniform store operated by one of plazabum's occasional posters (who also happens to be the publisher of Historic City News) is offering the free "anonymouse caps" after he got a good laugh out of the idea when he first heard it suggested by another local businessman, Chuck Nusbaum.
Michael Gold said that he would donate any proceeds from the cap sales to the local homeless shelter, St. Francis House, but today, to the surprise of Renee Morris, Executive Director of the shelter, Gold kicked his offer up a notch.
After lunch, Morris met with Gold at the Washington Street shelter to receive dozens of new pairs of work pants and other clothing items totaling over $3,000.00. Gold said, "It was always my intention to give the anonymouse caps away but many of the recipients wanted to do something directly to help the homeless".
"I collected less than $200.00 but I knew I could do better than that", said Gold who operates JR UNIFORM COMPANY; a local business that was established three years before the Great Depression of 1929.
"I gave the shelter two or three dozen baseball caps, and a few dozen pair of dark work pants that someone could wear if they were trying to find a new job." said Gold. "Next week I've promised Renee to donate even more mens and ladies work shoes and boots as well as work and dress shirts from our inventory."
Gold also issued a challenge to Edward A. Slavin, Jr., who so far has made no public comment about the humorous caps that poke fun at Slavin for calling those who visit the plazabum.com discussion forums "anonymice".
"I challenge Slavin to show that he can be a good citizen and use his influence with so-called "local activists" to match the plazabum community's contribution to the St. Francis House shelter." said Gold.
Photo credit: © 2008 Historic City News staff photographer
Share your thoughts with our readers >>