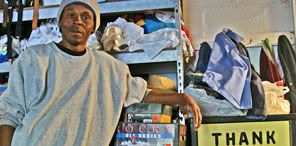 Last month, Historic City News reported on members of a local discussion forum (www.plazabum.com) who created a humorous cap that poked fun at the name-calling of a disbarred lawyer who currently makes St. Augustine his home. (SEE "Local forum sparks humorous retort" October 28, 2008).
Quoting a post this morning on the plazabum forums, Michael Gold wrote "I wanted to recognize the 50 or more plazabum.com visitors who responded to the "anonymouse caps" with enthusiasm as well as donations to benefit the St. Francis House.
Gold went on to say, "One of my family's companies, JR Uniforms, matched and added to your contributions and together we were able to provide a substantial donation of new clothing, caps and shoes for distribution to clients of St. Augustine's only homeless shelter."
The term "anonymouse" was taken from repeated, public characterization of the forum's participants as "anonymice" by activist Ed Slavin; ostensibly because the participants post their comments using anonymous nicknames.
Not to go quietly, a couple of plazabum regulars threw out an idea that they should embrace Slavin's disapproval and wear it as a "badge of honor" with t-shirts or buttons that simply say "anonymouse". The first salvo has been embroidered caps — complete with the design of a mouse head and the plazabum.com moniker.
"Our town is beleaguered with people who call themselves "activists" but fail to actually take an active role by doing anything to ameliorate the social problems of our community", said Gold — who is one of plazabum's occasional posters and also happens to be the publisher of Historic City News.
In his comments this morning, Gold concluded "The support shown by people who read the discussion here, then silently, anonymously came to my family's store with a $5 or $10 donation for these caps, have materially done more to help homeless people in St. Augustine than a busload of loud-mouth, so called "activists"."
We asked if the hats would continue to be available and were told that the hats will be on the shelves as long as people continue asking for them. Gold stated that nearly 100 hats have been given away so far and about half of those were to plazabum readers and participants who made a donation.
Photo credit: Historic City News staff photograph
Share your thoughts with our readers >>