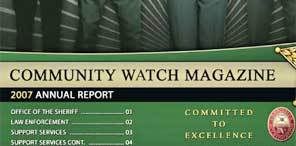 Monday, the St. Johns County Sheriff's Office released the winter 2008 issue of their public information periodical; Community Watch Magazine. Included in this quarter's issue is the 2007 Annual Report that details services provided and costs associated with the various divisions and bureaus within the agency.
I spoke with Sgt. Chuck Mulligan who together with Deputy Joe Bowen, Deputy Larry Durden, John Cerone, Media Resource Officer Kevin Kelshaw, and Jennifer Salgado, produced the publication which is available at www.sjso.org
Some highlights of the statistics quoted in this year's report:
• 6317 Traffic Crashes
• Conducted 12 safety checkpoints resulting in a total of 109 arrests which includes 41 DUI's.
• #1 Intersection for Crashes was US1 and SR312
• #2 Intersection for Crashes was A1A and Solano Rd.
• #1 Cause for Crashes was Careless Driving.
• #2 Cause for Crashes was Violation of right of away.
• Dispatched 145,807 calls for service.
• The Communications Center receives over 500 Non Emergency, 9-1-1 and Switchboard calls per day.
• SWAT – 15 missions
• Air Unit – 95 missions and assisted with 98 arrests
• Marine Unit – 22 missions
• Bomb Squad – 15 missions regarding potential explosives
• Dive Team – 13 dive missions
As reported previously at Historic City Media, the Sheriff's Office is actively seeking a solution that can provide increased housing for inmates while recognizing current and future budget constraints. With that in mind, the Sheriff is proposing the development of the Sheriff's Agricultural Work Center in lieu of an immediate jail expansion.
St. Johns County tax payers saved an estimated $832,000 last year through the use of inmate work squads to perform work that would otherwise be done by county employees or contract workers. Work Squads picked up 195 tons of trash throughout St. Johns County in 2007.
Share your thoughts with our readers >>