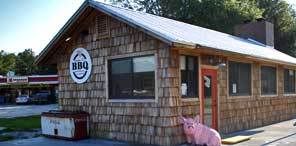 According to Smokin' Daryl, it takes 6 – 15 hours to make authentic, fresh smoked BBQ. "That means you either get up real early to start your smokin' or you serve yesterday's meat".
At Smokin' D's, they choose to get up early — in the case of brisket, they start the night before!
When they stoke the smoker, Smokin' D's is loading up the meat for that day's business. Their sign says when they sell out, they close. Daryl claims to consult the voodoo witch and the ghosts of BBQ Kings past to determine just how much meat he'll need that day; but it's up to the customer to get there before he runs out.
Menu selections start at a sandwich with a drink and side dish for $5.95 (pork, turkey or brisket) up to several family meal specials; including a beach feast for $49.95.
Sides offered are baked beans, southern yellow rice or cole slaw and Smokin D's features a choice of BBQ sauces including Memphis Sweet, Texas Heat, Carolina Vinegar or their House Specialty.
Consult Daryl at Smokin' D's BBQ, SR 206 and US 1 South at Dupont Center or call 904-797-2050.
Photo credit: Historic City Media news photographer Kerry McGuire
Share your thoughts with our readers >>