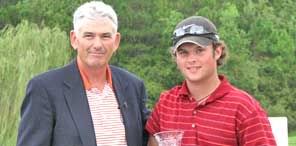 Historic City News learned today that the selection committee has revealed the final field for the 2008 St. Augustine Amateur.
A complete list and player bios are available at www.staugustineamateur.org.
This year's amateur will take place on October 17th – 19th at the St. Johns Golf Club. The tournament is designed for better amateur and collegiate players from all over the country, and is played at 54 holes, stroke play.
The community is eager to see if the defending champion, Danny Evelyn, will once again recapture his title. Evelyn is from Wellington , Florida and is currently ranked 692 in Golf Week Scratch Players World Amateur Ranking. Besides winning the 2007 St. Augustine Amateur, Evelyn tied for 3rd in the 2008 Florida State Amateur and the 2008 Coker College Invitational. He was low amateur in the 2007 South Florida Open.
Other players to watch this year are:
Zach Sucher of Mobile Alabama- Age 22. Currently ranked 9th in Golf Week Scratch Players World Amateur Ranking, Sucher is the winner of the 2008 Cardinal Amateur and placed 2nd in both 2008 Porter Cup and 2008 Palmetto Amateurs. He is the 2008 GCAA PING Second Team All American and currently attends the University of Alabama at Birmingham .
Duke Butler IV of Ponte Vedra Beach Florida- Age 27. Butler was a University of Florida team member from 2002-2005 and has played in 3 US Amateurs ('01,'03,'04). He has played in top amateur events nationwide including the Western, Sunnehanna, and Players Amateur. He is a member of the 2007 and 2008 North Florida Underwood Cup team, and just last month he won the Amelia Island Invitational.
Tyler McCumber of Ponte Vedra Beach Florida – Age 17. McCumber is currently ranked 9th in Golfweek Junior Ranking and 17th in AJGA Polo Golf Rankings. In 2008 he has competed in the Junior PLAYERS Championship, Westfield Junior PGA Championship, and the HP Boys Junior Championship. He attends Nease High School in Ponte Vedra.
About the St. Augustine Amateur
The St. Augustine Amateur is a national event established in 2004 for better amateurs and collegiate players. Played over three days at stroke play, the field this year is comprised of players from 14 different states. The winner will receive a replica of our trophy designed by Heritage Creations of Glens Falls, NY. Last year's winner, Danny Evelyn, shot 67-67-71 = 205, tying the tournament record of 5 under par.
The St. Augustine Amateur is a walking only tournament. Playing in threesomes, it makes for an enjoyable round for the players. Our local First Tee chapter provides about 25 caddies for the field (or many of them bring their own) – and we make all the caddies carry sand and wear bibs that we supply. You'd be surprised how quiet and pleasant a course is without carts. The forecaddies on 6 holes, walking referees and standard bearers in the final groups Sunday add to the experience.
Net proceeds of the event and the Pro-Am (presented by the Rotary Club of St. Augustine) will go to benefit the First Tee of St Johns County. The First Tee is an initiative of the World Golf Foundation, and is supported by (among others) its Founding Partners: the Augusta National Golf Club, PGA Tour, PGA, LPGA and USGA The focus is to give young people of all backgrounds an opportunity to develop, through golf and character education, life enhancing values such as honesty, integrity, sportsmanship and responsibility.
Live scoring is available on the website during play (scores returned every 3 holes), and results will be posted on the website daily, and emailed to major golf media outlets.
For additional information, please contact Jessica Echterling at (904) 810-2231 or or Jay Jennison at (904) 377-6440.
Share your thoughts with our readers >>