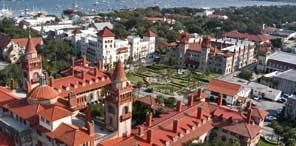 Visioning Summary Consensus Statements
The following Consensus Statements were distributed to Steering Committee members via email. Responses were compiled by Linda Dixon for discussion and reconciliation and the results were forwarded to Historic City News.
Steering Committee members were asked to indicate whether the statement is "acceptable", acceptable with "minor reservations", acceptable with "major reservations", or "not acceptable".
The responses reported below summarize the results from all ten Steering Committee members.
1. The University of Florida can be a key financial partner by facilitating a combined lobbying effort; leveraging state, local and federal resources; and assisting in grant writing and donor support.
4 "10" Acceptable 3____ Minor Reservations 2____ Major Reservations 1____ Not Acceptable
2. A UF Direct Support Organization (DSO) can be an umbrella organization for multiple historic resource entities.
4 "8" Acceptable 3 "2" Minor Reservations 2____ Major Reservations 1____ Not Acceptable
3. The University of Florida should continue to collaborate with Flagler College, the City, NPS, and other partners to deliver multidisciplinary education for varied audiences and to conduct research that supports authentic interpretation of historic resources.
4 "10" Acceptable 3____ Minor Reservations 2____ Major Reservations 1____ Not Acceptable
4. The historic area should be cohesive and easily navigated providing heritage tourists with a holistic experience that flows from an orientation point (such as a Visitor Center), and is anchored by signature facilities along St. George Street with adequate parking and comfortable pedestrian access.
4 "10" Acceptable 3____ Minor Reservations 2____ Major Reservations 1____ Not Acceptable
5. The historic area should be managed under a united organizational framework in a spirit of partnership and cooperation with appropriate University roles and local support.
4 "7" Acceptable 3 "2" Minor Reservations 2 "1" Major Reservations 1____ Not Acceptable
6. All activities and investments undertaken by the University of Florida should be for the purpose of historic resource stewardship.
4 "6" Acceptable 3 "3" Minor Reservations 2 "1" Major Reservations 1____ Not Acceptable
Let us know what you think >>