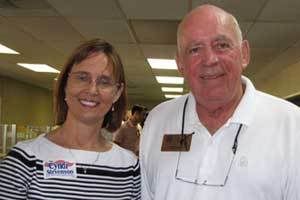 EMERGENCY OPERATIONS NUMBERS AND WEBSITE:
Hope you are safe and dry-as Fay heads out of town. Many people I have spoken to have been staying home watching the Summer Olympic essential service workers in health care-water utility-and emergency services have been shifted into overtime working 12 to 16 hour shifts to help us weather this storm.
County staff, JEA and FPL have been working round the clock during this storm event.
Thankfully this storm did not reach hurricane strength, yet we have had severe risk to property and a number of storm related injuries and a reported casualty.
This is an opportune time for you to visit the county emergency website for information on how to prepare your home, business and family for storm and emergency plans. The link is currently prominently posted on the county website: WWW.SJCFL.US
The direct link is: WWW.sjcemergencymanagement.org
In this storm, we witnessed the flooding issues in Jacksonville caused from the rising River and creeks near the mouth of the St. Johns River. That is why St. Johns County hurricane evacuation focuses on getting citizens west of I-95-as opposed to North through Jacksonville. Additionally, the choke point for hurricane evacuation for the state of Florida is I-95 and I-10. That is one benefit of new routes being established to connect west of this interchange.
Commentary contributed by Cyndi Stevenson, County Commissioner District 1
Photo Credit: Karen Sikes-Kline
Share your thoughts with our readers >>