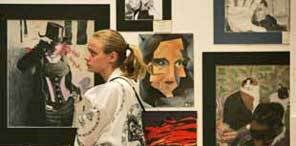 Have an Art Attack this Saturday at the St. Augustine Amphitheatre.
St. Johns County art students will be displaying and performing their works starting at 3:00p.m.
The show, presented by the SJC Education Foundation, will feature performing and visual art from students in kindergarten through high school.
This is a good opportunity to see the quality of the visual and performing arts in our schools.
And a reminder, The St. Augustine Amphitheatre could not operate without the help of outstanding volunteers. Ushers, parking attendants, tour guides, & many other important roles are filled by dedicated community members that donate their time and skills to the facility.
If you would like to become a volunteer at the St. Augustine Amphitheatre, please contact Lisa Tomkins at (904) 209-3750 or download the application form and return it to 1340C Anastasia Blvd. St. Augustine, FL 32080.
Photo credit: Historic City Media news photographer Kerry McGuire
Share your thoughts with our readers >>