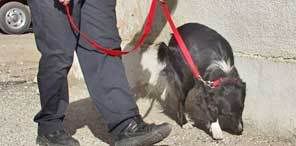 A 17 year old St. Augustine High School student is facing ten days suspension from school after St. Johns County Sheriff's deputies, aided by K-9 officers, performed "narcotics sniffs" of student vehicles parked on the school campus.
When K-9 "Justice" alerted on the student's JEEP Cherokee Thursday, a further search was conducted. Deputies discovered a hatchet lodged between the driver's door and seat.
When Deputy Sean Tice asked the student why he brought the hatchet onto campus, the student informed the officer that it was for "protection", according to the incident report. The student claims that his vehicle had been broken into previously and he was concerned that it might happen again.
No criminal charges were filed at the time for possession of the weapon on school property; however, the student will be referred to the Discipline Committee for possible placement at Gaines Alternative School when he returns from his ten day suspension.
Share your thoughts with our readers >>