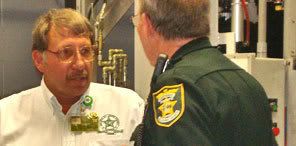 Historic City News has learned that detectives with the St. Johns County Sheriff's Office Violent Crimes Unit are seeking two male subjects in connection with a carjacking that occurred early Monday evening in the 600 block of W. King St.
Shortly before 8:00 p.m., the victim, a 48-year old man who is visiting from the Bahamas, pulled into King Food Mart.
Before he was able to shut off the vehicle, one of the suspects entered through the front passenger door while the other entered into the back seat.
The two subjects grabbed the victim and began to beat him. The victim was able to get out of the vehicle as did one of the two suspects who then continued to strike him.
The victim stated that there were several people outside of the store who refused to help him at the time.

The suspect then got up, ran to the vehicle, and drove off southbound on Herbert St. It is unknown which direction the second suspect fled.
Deputies located the unoccupied vehicle a short time later in front of a residence in the 400 block of Herbert St.
The victim was treated at the scene by county rescue personnel and was then transported to Flagler Hospital where he was treated and released.
The suspects were described as black males in their mid 20's to 30"s, they were both slim and slightly taller than 5'6". One of the suspects was wearing a grey shirt with the sleeves cutoff and blue jean shorts and the other suspect was wearing all black.
Anyone with any information concerning the identity of these two suspects is asked to contact Detective Charles Brantley at the St. Johns County Sheriff's Office at 824-8304. You can also remain anonymous and possibly be eligible for a cash reward by calling CrimeStoppers at 1-888-227-8477.
Share your thoughts with our readers >>