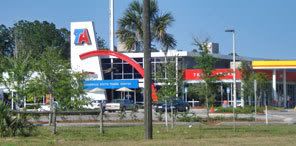 Last week we ran a story about a drive-off at Pilot Travel Centers on CR 210 where over $400.00 worth of fuel was stolen.
This week a more elaborate scheme resulted in the theft of over $1,200.00 worth of fuel — just across the street.
The T/A Travel Center on CR 210 at Interstate 95 became the victim of an apparent scheme involving tampering with a diesel fuel pump last Wednesday night – believed to have occurred between 10:00 p.m. and 11:00 p.m.
A Travel Center employee discovered that 298 gallons of diesel fuel was missing when she reported to work on Thursday morning according to the initial report filed by Deputy Daniel Sorrells.
When the employee inspected the furthest pump from the fuel desk, she noticed the padlocks on the pump had been changed and the original locks were missing. The wire protective bands had also been cut from around the pump and the pump was showing an error which indicates tampering.
Inside the pump it appeared that the circuitry had been bypassed and the pump was on free flow. A loss of 298 gallons of diesel fuel at $4.229 per gallon, totaling over $1,200.00 was reported.
The Travel Center manager is reviewing the video tapes together with several pieces of physical evidence that were collected at the scene and forwarded to Investigator Debra Alameda with the Property Crimes Division of the St. Johns County Sheriff's Office.
Photo credit: Historic City Media news photographer Kerry McGuire
Share your thoughts with our readers >>