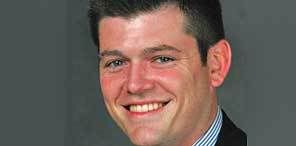 According to an afternoon interview for Historic City News with Erika Ward, Deputy Supervisor of the St. Johns County Supervisor of Elections office, Candidate Mark P. Miner, one of two Republican candidates challenging the re-election bid of Commissioner Ben Rich, has missed the 12:00 noon deadline today to submit "candidate petitions" in lieu of paying the established qualifying fees — in Miner's case, $2,443.08.
Both Randy Brunson, who is a candidate for the District 3 seat currently held by Ben Rich, and Rich, himself, had sufficient verified petitions to avoid paying qualifying fees.
Likewise, recent entrant to the District 5 race, Gary McMahon did not achieve enough verified petitions before the deadline. In an article that appeared in The Record on April 22nd, the staff reporter remarked that McMahon "hasn't even opened a campaign account yet". Unless another candidate surfaces during qualifying week, all candidates currently announced in the District 5 race are Republican — registered voters, regardless of party affiliation, will elect the new commissioner in the August 26th primary.
District 1 candidate Merrill Paul Roland, who is running with no party affiliation, will be required to pay the $2,443.08 qualifying fees and meet all other qualifying requirements as the other State, Multi-County, County, District & Political Party Executive Committee candidates during their qualifying period from noon, June 16, 2008 to noon, June 20, 2008, since he did not submit the required 1,251 verified petitions.
If Roland qualifies, he will close the primary in the District 1 County Commission Race; meaning that Democrats will not be allowed to vote between either Cyndi Stevenson or Albert J. Abbatiello in the primary election on August 26, 2008.
Let us know what you think >>