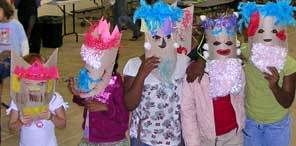 An opening for "Through the Eyes of a Child", an eclectic and vibrant exhibit featuring the artwork of children from St. Johns County, will be held at the St. Johns Cultural Council's Art Advocate Gallery on Saturday, May 31 from 5:00p.m. to 9:00p.m. according to a media release received by Historic City News this afternoon.
Student artwork from the enrichment series at the O.U.R. 21st Century Learning Center in Hastings, the ACE program at American Legion Post 192 in West Augustine, the Florida School for the Deaf and Blind, Gamble Rogers Middle School, and students of private art teacher, Michelle Robideaux-Pent will be on display for the opening.
The Gallery will be alive with special performances, poetry, ceramics, 2 dimensional and 3 dimensional artwork. The ages of the artists range from elementary to high school age and the variety of artwork represents their different imaginations, abilities and creativity.
The Art Advocate is also joining forces with Robideaux Studios in displaying art work created by the students of Michelle Robideaux-Pent. The work on display at Robideaux Studios, located just around the corner from the Art Advocate Gallery at 10 Rohde Street, will also represent a multitude of students from different schools and organizations.
Opening receptions at both Galleries will be held on May 31st, from 5:00 – 9:00 p.m. during Uptown Saturday Night. Both events are free and open to the public. Everyone is invited to enjoy light refreshments while viewing the shows and meeting with the emerging artists. Through the Eyes of a Child will run from May 31st through June 20th.
The Art Advocate Gallery is open Monday through Friday from 11:00 a.m. to 3:00 p.m.
For additional details on the cultural events reported to Historic City Media by St. Johns Cultural Council, visit their website at www.stjohnsculturalcouncil.org
Photo credit: O.U.R. 21st Century Learning Center in Hastings
Let us know what you think >>