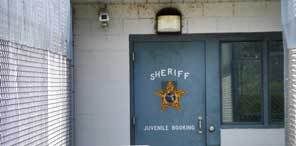 Two female students attending classes at First Coast Technical Institute on Collins Avenue were arrested this week on charges of disruption of a school function; one of whom was also charged with resisting arrest without violence, battery on a school board employee, and violation of probation.
Deputy Kelly Walker was the first officer to arrive on the scene in the FCTI cosmetology class room where she reported finding two female students being held apart by Dean Sylvester Lucas and carpentry class instructor Bill Clark.
At one point, one of the students attacked Dean Lucas; punching him and slapping his glasses off of his face. The students were separated but managed to get back at each other on two or three occasions during the incident; screaming profanities and swinging at each other with closed fists. At least twice, Deputy Walker unholstered her Taser and commanded the students to stop fighting — but her Taser was never deployed according to the incident report.
Deputies Sean Tice and Kelly Kemp responded to Deputy Walker's call for assistance to secure the students. After the incident was over, Deputies Kemp and Whitfield transported the juveniles.
Both of the students were placed on suspension from school for 10 days. One of the students is also being referred to the Gaines Alternative School for the safety of school employees and other students.
Share your thoughts with our readers >>