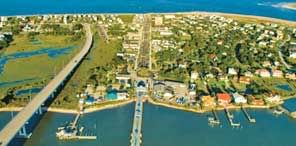 Historic City News has learned of a long awaited celebration to mark the completion of the infrastructure and streetscape project at Vilano Beach.
The St. County Board of County Commissioners joins the North Shores Improvement Association, Vilano Beach Main Street and community leaders, volunteers, and patrons to celebrate the completion of a citizen/government project that has taken more than 10 years in the making – to dream, design, plan, create redevelopment regulation and guidelines, receive more than $5 million in grants and awards, and provide funding for the infrastructure and streetscape using a Community Redevelopment Agency.
The celebration will begin at 4:00 p.m. on Friday, October 17th with a Ribbon Cutting ceremony at the Oceanfront Pavilion on Vilano Road in the Vilano Beach Town Center.
The ceremony will include dignitaries and guest speakers, as well as a special performance by the Chamber Singers from St. Johns County Center for the Arts at St. Augustine High School. Following the ceremony, local restaurants will provide food samples, and a DJ will provide dance music through the years from the 1920s when Vilano Beach began during Florida's "Land Boom" period.
History and Background
Vilano Beach is an unincorporated area in St. Johns County, located on a barrier island two miles north of the historic City of St. Augustine. The Town Center area includes two waterfronts about a half mile apart, with the Atlantic Ocean on the East and the Intracoastal Waterway on the West.
When the new bridge replaced the old draw bridge on State Road A1A's Coastal Highway in 1995, the commercial district that had once been a prime tourist destination was bypassed. In 1997 a citizen volunteer group from the North Shores Improvement Association, serving this area since 1939, came together with the St. Johns County Board of County Commissioners to form a partnership with the goal of providing a revitalization initiative using a formal Vision for the future. The Vision by Community Leaders was adopted by St. Johns County in 1999, and the implementation process began.
A first step was to get technical assistance from the State of Florida to design Land Use, secure grants for public projects along the way, and then put into place guidelines and protective regulation. Vilano Beach was designated by the Florida Department of Community Affairs as a Waterfronts Florida Community in 1999.
An additional step provided assistance with optimum building design to provide a legacy of historic architecture, and commercial retail and other business placement that would promote successful businesses and create a vibrant downtown. Vilano Beach was designated by the Florida Department of State as a Florida Main Street community in 2003. This program provides assistance with Design, Economic Restructuring, Organization, and Business Promotion and Community Promotion through events planning. Florida Main Street is part of a National Main Street Program under the National Trust for Historic Preservation and a network with 50 other Florida Main Street Communities.
The County created a North Coastal Corridor Overlay District zoning for the area in 1999, which was revised to include a Vilano Beach Town Center Mixed Use Development District in 2006. In 2002 a state-approved Community Redevelopment Agency Area was created, and its Tax Increment Financing made it possible to invest $12.5 million for a streetscape and infrastructure, with a possible return of $100 million of value in redevelopment and increase in the tax base.
Goals and Project Description
The mission of this infrastructure and streetscape project is to provide the foundation for a mixed use Town Center to redevelop the blighted commercial area into a sustainable, pedestrian-friendly, historically significant and economically successful downtown area, and to enhance and protect the remarkable natural, historic and recreational environment.
Major infrastructure improvements in the Project have included over a hundred new parking spaces, underground utilities, and an underground ex-filtration storm water system. Hundreds of new trees and pedestrian oriented landscaping have been added to include pedestrian islands of refuge with benches, covered seating and matching trash receptacles. The pier has a pair of swings, and there are crosswalks, natural sand colored pavers, and crushed glass pavers on wide sidewalks that sparkle in both sun and moon light. Wayfinding signage doubles as public art, encouraging visitors to get out of their cars and walk, along with neon inspired pedestrian-scale LED lighting.
A key component of the Town Center Project was incorporating the traditional Art Deco Moderne and Florida Vernacular architectural styles into the design plan. The design utilizes historic materials of both development styles — including coquina, metal roofing native plant materials, glass mosaics, neon lighting, aluminum materials and vibrant color schemes. New buildings will blend with existing ones to maintain a small town beach feel.
The Town Center Project showcases public art. One important piece is an arch of three life-sized dolphins that appear to be jumping over the fishing pier. The Haley's Motor Court sign has been restored and reinstalled along Vilano Road near the Mom and Pop motel where it originally beckoned cars to stop during the 1940s and 1950s after World War II during the heyday of automobile traffic from travelers going between North and South on scenic A1A along the ocean. This sign is a focal point and a historic preservation project that supports the commitment to the Main Street program historic preservation principle.
A nine foot tall "Bluebird of Happiness", once an icon used to encourage Florida fresh orange juice sales to travelers, and then placed in front of a Vilano business to encourage tourists to stop in, is now located near the pier awaiting fund raising for restoration. There are mosaic tile works of art in the Coastal Highway/Vilano Road intersection, and on the floors of the Oceanfront and Pier Pavilions, as well as at the North and South entrances to the nature boardwalk.
A pavilion is located at each waterway for community based activities and recreational uses. There are fountains, a waterfall, and an interactive water park at the beach pavilion with showers. The streetscape roads include traffic calming roundabouts. A nature greenway boardwalk over the saltwater marsh connects the Town Center with the residential community to the north for pedestrian and bicycle use.
Through key members of the citizen/government partnership — which includes the support and assistance of County Departments, and technical assistance from Federal, State, and regional programs — the group has worked together with other community organizations such as the Friends of the A1A Scenic and Historic Byway, the national Guana Tolomato Matanzas Estuarine Research Reserve Education Center a few miles away, Visit Florida, the Chamber of Commerce, Economic Development Council, and the Visitors & Convention Center.
Awards & Milestones
The Vilano Beach Town Center Project has been the recipient of several regional planning awards, the Florida Department of Environmental Protection Sustainable Florida Award, and a Merit Award given by the Secretary of State from Florida Main Street for Outstanding Public Improvement for its Town Center Streetscape. The project has received over $5 million in grants for public improvements, including $4.1 million from the Florida Forever Florida Communities Trust to purchase the historic Fiddler's Green property on the ocean end of the Town Center to be used as an oceanfront park, community and special events center for permanent public use, sea turtle nesting center, and waterfront access.
From 1999 to 2003
• Waterfronts Florida Community Designation with funding through the National Oceanographic & Atmospheric Administration (NOAA) administered by the Florida Department of Community Affairs, 1999
• Town Center & Streetscape Master Plan completed with Waterfronts Florida technical assistance
• North Coastal Corridor Zoning Overlay District established with a Design Review Board in place for commercial and multi-family construction
• Overlay Design Guidelines Brochure printed
• Design and Permitting of two waterfront pavilions at the pier and the beach
• Stormwater Management Plan — grant from St. Johns River Water Management District, 1999
• Gateway signage and landscaping, 1999-2000
• Growth Management Award by 1000 Friends of Florida for Visioning, 2000
• Construction of Nature Greenway Boardwalk, Florida Inland Navigation District grant, 2001
• Vilano Pier Pavilion constructed with Florida Inland Navigation District (FIND) and Florida Coastal Management Program grants, 2001-2002
• Council for a Sustainable Florida Award, Florida Department of Environmental Protection presented by Governor Bush and his Cabinet, 2002
• Community Redevelopment Agency (CRA) created with Tax Increment Financing, 2002
• Northeast Florida Planning and Zoning Association Master Design Planning Award, 2002
Since becoming a Florida Main Street Community in 2003
• New Comprehensive Plan land use designation – Town Center Mixed Use Development – to create a downtown with a combination of residential, commercial, recreational and community uses throughout the Town Center boundaries, 2004
• Waterfronts Business Opportunity Brochure, with Waterfronts Florida assistance
• Link to County Web Site
• Northeast Florida Planning and Zoning Association Design Award, 2005
• Marketing Analysis Study by Gibbs Planning Group, 2005
• Vilano Beach Town Center Overlay Code updated with architectural guidelines and a new zoning category, 2006
• Construction of Beach Pavilion with Florida Recreation Development Assistance Program (FRDAP) Grant, 2006
• Groundbreaking Ceremony for construction of Town Center Streetscape & Infrastructure Project, 2006
• Business Recruitment Brochure and Retail Recruitment Plan from a Waterfronts Florida Program grant and the Gibbs Marketing Study updated through the Florida Coastal Management Program and Florida Department of Environmental Protection, 2007
• Purchase of Fiddler's Green oceanfront property for a multi-use community center building with income potential and a Vilano Beach Oceanfront Park with a Florida Forever Florida Communities Trust Grant for $4.1 million of a $5.5 million purchase price, 2007
• A life size pod of 3 dolphins sculpture 27 feet across erected 20 feet over the Vilano Fishing Pier, 2007
• Party on the Pier held, November 2007
• Gateway and Bridge Landscaping planted by Florida Department of Transportation, 2008
• Merit Award for Outstanding Public Improvement from Florida Main Street, 2008
• "Spruce Up" Forum and "Land Development Code" Forum held to help business and property owners improve their street front image and prepare for redevelopment.
• Downtown Redevelopment Director for Del Rey Beach conducted a three day workshop to help plan for future events and business recruitment, 2008
• Fourth of July Parade held, 2008
• Haley's Motor Court sign restored and put into place, 2008
• Completion of Streetscape & Infrastructure Project, October 2008
Future Redevelopment and Challenges Ahead
The completion of the Streetscape and Infrastructure opens the door for a future of possibilities for place making. The community citizen/government partnership will continue to work on successful economic restructuring and fund raising using existing properties and showcasing natural and historic attractions, especially after the "Fiddler's Green" Civic Center is ready for public activity.
Transportation enhancements such as trolley access and water taxi service to St. Augustine will be pursued. Promotional and recreational events will be planned. In addition to the annual Florida Skimboard Pro-Am Championships and Lloyd Small Inshore Fishing Tournament, there have been many ideas suggested — such as a weekly outdoor market, art on the pier, beach bounce, bike and scooter parade, triathlon, outdoor theater, kite flying contest, oyster roasts with a 1920s theme, dog days and yappy hours, sunset celebrations at the Pier and yoga at sunrise on the beach.
The ten year vision, planning and implementation process — led by a partnership between the community and county — will be the foundation for the future of Vilano Beach.
Share your thoughts with our readers >>