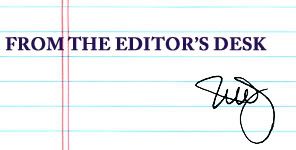 Last week, Ed Hall, who has spent the last twenty years building a reputation as an editorial cartoonist with bite, was "temporarily suspended" due to a controversy over a cartoon that appeared in The St. Augustine Record.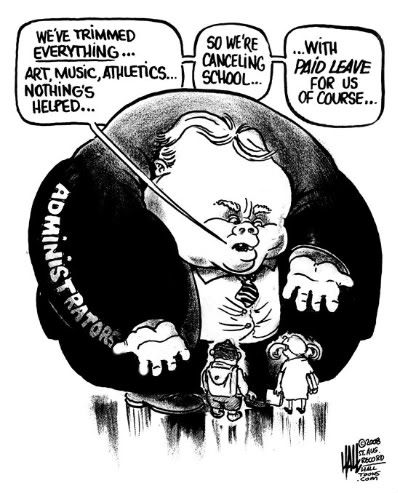 In a comment posted to the freelance artist's personal blog, Hall said "I found out first hand this week that the last thing you want to do in a jittery economy is rock the boat with a controversial cartoon."
As editor for Historic City News, I read a lot of articles and editorials from other publications. I have to tell you, the chilling effect of this hullabaloo – stemming from a political cartoon – has definitely piqued my interest.
Dr. Joe Joyner, the superintendent of schools, reportedly said that Hall's cartoon portrays an "untrue picture of our district." Hall replied, "What I suspect is that I've actually hit a nerve with this cartoon; which is usually the case when one causes such a stir."
In a "guest column" that appeared in today's Record, St. Johns Cultural Council President, Philip McDaniel, took offense to the suggestion that art and music have been "trimmed" from the school district's budget. McDaniel wrote, "I sleep well at night knowing our school district's administration will continue to protect and support student access to arts, music, and theater."
McDaniel rebuked Hall by writing, "Please check your facts next time before you mislead the public with a rendering as erroneous as the one in question." McDaniel went on to say, "It's ironic that you would have used your artistic skills in defamation of the very subject that is one the most valued in our school district."
Let's not forget that McDaniel's appointment to his position on the Cultural Council, which is largely funded by local tax dollars, as well as his relationship with indicted County Commission Chairman Tom Manuel have not been without controversy. Some well established artisans in the local community have been critical of McDaniel and questioned his true agenda — and that of the Cultural Council itself.
Hall defended his point of view, as expressed in the cartoon, by saying, "I'm tired of running into teachers in Office Depot who are spending their own money to buy supplies for their students." Hall was emphatic that, in his opinion, "It's shameful. Teachers and students deserve better, and I'm not going to back down from this fight."
In view of his suspension, Hall suggested that other local freelance cartoonist "keep their heads down."
I am inclined to agree with Hall's assessment that the budget axe just became a scalpel.
Over the last 11 years, Ed Hall has won 9 Florida Press Association Awards, 3 Newsmaker Awards, and numerous fine art awards. In 2003, Ed was presented the 53rd Annual Green Eyeshade Award for weekly cartoons by The Society of Professional Journalists. Ed has also three times received the prestigious Excellence in Journalism Award from The Florida Press Club. Hall has published two collections of his cartoons.
Philip McDaniel is a 15-year resident of St. Augustine and has been associated with several quality of life projects including Project SWING, the New Davis Shores Park, and the restoration of the Cultural Center at St. Augustine Beach Pier. He currently serves as board president for the St. Johns County Cultural Council, the local arts agency for St. Johns County.
Share your thoughts with our readers >>