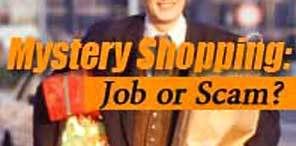 A St. Johns woman narrowly avoided becoming a victim to an apparent Internet scam according to an incident report filed by Deputy Sheriff Gabe Bagby this weekend.
The complainant is a "mystery shopper" which is a tool used by market research companies to measure quality of retail service.
These companies send mystery shoppers to act as shoppers to interact with a business as a normal customer and to report on the experience.
Mystery Shoppers are usually paid and their purchases reimbursed. These shoppers can also be used for the management of the quality and performances of goods and services.
On 04/06/08, she received an email for a mystery shopper opportunity from an email address with a name of "James Marc". She replied with her name, address and work address.
She received another email, from a different e-mail address, with the name of "James Marc", saying she was going to review Wal-Mart and MoneyGram and that she was being sent $2550 to perform her shopping assignment.
The next day she received a UPS envelope with three US Postal Service money orders inside. Each money order was made out for $850.00. Supposedly, the complainant was to deposit the USPS money orders into her account, issue her check to send a $2000.00 Wal-Mart MoneyGram to a person in Ypsilanti, MI and then keep the difference to cover here fees and charges.
The complainant said that she believed the USPS money orders were not real, but she took them to the bank to verify. She went to the Bank of America branch where bank personnel determined that the money orders were not real.
Fortunately, the complainant did not provide any pertinent personal information to the other party, so, no crime was committed against her. The fake money orders were turned over along with tracking information from the UPS envelope.
Share your thoughts with our readers >>