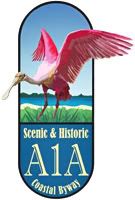 Sallie O'Hara, Byway Program Administrator, reported to Historic City News today that the Friends of A1A have been awarded $100,000 for Coastal Conservation Clean-ups.
The Florida Coastal Management Program (FCMP) within the Department of Environmental Protection (FDEP) announced a grant award for FY2009-2010 to the Friends of A1A Scenic and Historic Coastal Byway in the amount of $100,000.
The project entitled "See It – Clean It" – Coastal Conservation Campaign calls for regular coastal clean-ups by scores of volunteers to maintain Northeast Florida's treasured beaches as well as educate travelers and residents in harmful effects of litter along the coast.
It also funds a gala symposium with keynote speakers slated to occur in May 2010 at Marineland to honor volunteers.
This award complements current volunteer efforts by the Friends of A1A participating in the FDOT Adopt-a-Highway Program for the 72-mile Byway corridor.
The local award, consisting of $50,000 in cash and $50,000 in-kind matching, ranked seventh of nine statewide projects funded. Funding comes from the National Oceanic and Atmospheric Administration.
This is the same program, which promotes Working Waterfronts as in Vilano Beach and Remarkable Coastal Places such as Marineland. The grant requires extensive community engagement of volunteers and partners actively performing mini-projects and regular beach clean-ups.
Troy Blevins, St. Johns County Recreation and Parks Department Director, commends the Friends of A1A as a partner assisting with beach management efforts. He cautioned to remember to allow for those "emergency" clean-ups during hurricane season.
Tara Dodson and Billy Zeits with Keepers of the Coast, a partner nonprofit, will be synchronizing efforts with the new Project Manager, Pati Teeft. The project tasks will get underway after July 2009 when contracts are finalized between the Friends of A1A and FDEP.
Sallie O'Hara, Byway Program Administrator, is delighted in gaining funding for yet another project for the new organization. "These funds really help us reach our goals as set out in our 2008 Strategic Plan for Resource Protection."
Projects funded under the National Scenic Byway Program are gearing up to start in July 2009 as well. Soon the Byway logo Roseatte Spoonbill will be visible in more parks and signs along the corridor attesting to the fact that A1A is a special destination for travelers."
"Now we have a real need for operating capital to effectively manage the many contracts underway." O'Hara says. We are aggressively seeking "bail money from interested supporters" for the current Jail and Bail Fundraiser.
Share your thoughts with our readers >>