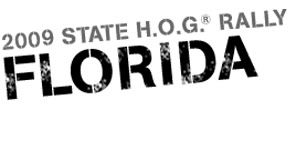 The "2009 Florida State H.O.G. Rally" will be held at St Augustine Beach, October 21-24, 2009 (Wednesday through Saturday) according to an announcement received by Historic City News today.
Wednesday is usually a preparation day, but if you arrive early, you can wonder through the city and learn about the history of Florida.
The host hotel is the "Holiday Inn" on St Augustine Beach. Events will be held at several nearby hotels and resorts.
Due to limited availability of space; cars, trucks, campers or trailers will not be allowed to park on the host hotel property. Only motorcycles will be allowed to park on site during the rally. The only exception will be a special handicap parking area.
Additional parking for cars, trucks, campers or trailers is available off-site near the host hotel at the St Augustine KOA Campground, 525 West Pope Road and located 3.5 miles from the Holiday Inn. Non-secured parking will be located in the main campground area and will be open at all times.
Sightseeing tour trains will be offering free shuttle service from the campground with a purchase of tour tickets.
The Historic Downtown Parking Facility will provide motorcycle parking at a flat rate of $3 a day during this event.
In addition to events scheduled at the host hotel at the beach, events in the City of St. Augustine include a Saturday morning Parade of Flags, limited sign-up to 750 bikes, a bike show Friday at Ripley's Believe It or Not Museum and bike performances Saturday at the former Bozard Ford lot on Ponce de Leon Boulevard.
Let us know what you think >>