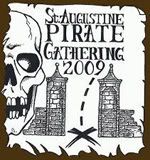 The Crew of the Black Heart, the Brothers of the Coasts and the St. Augustine Pirates reported to Historic City News that they will present the 2009 St. Augustine Pirate Gathering this weekend.
The gathering is a pirate festival in the historic city that first saw pirates walking their streets two hundred years before the founding of our country.
On November 13, 14 and 15, pirates will once again occupy the nation's oldest city. This time, the pirates will be in a much more festive mood. It will be a "gathering" of pirates from around the country, coming together to celebrate the Golden Age of Piracy, and to share their pride and knowledge with the citizens and visitors of Saint Augustine. So… don ye pirate garb and join us for a weekend of mischief, skullduggery, and merrymaking as St. Augustine celebrates….The St. Augustine Pirate Gathering 2009.
Saturday November 14th, 2009, 10:30am – 5pm. at Saint Francis field there will be improvisational actors, sword fights, cannon firings, black powder demonstrations and pirates, pirates, pirates. There will be vendors in our "Thieves Market", selling a variety of plundered booty. Great food and drinks will also be available. For the adult pirate, the "Dropped Anchor Tavern" will be there to quench your thirst and toast your shipmates. For the kids there will be games, pirate magic, pictures and storytelling that will include tales of real St. Augustine pirates (Drake and Searles).
Saturday at 12:30pm the Pirate Gathering will feature a Pirate Parade along the Castillo, Bayfront, Cathedral and Cordova to St Francis Field on Saturday at 11:00am. Then at 12:30pm a Pirate Battle will ensue at the Redoubt along St George St. and another will follow at the King Street Plaza. "Will the Military Kill all the pirates at Plaza?" Saturday night is the world infamous "Buccaneer Bash". This is a time to lay down your arms and enjoy some great music and fine food and drinks. As the Saint Francis Field is closed to the public at 5pm, this is a ticket only event and is only open to pirates over the age of 21.
Sunday at 10:30 am is Pirate Court. Grievances are heard, disagreements are settled, and sentences are handed down in this comical court of Captains. It's going to be a great weekend of swashing and buckling fun for the whole family at……… "The St. Augustine Pirate Gathering 2009"
For more information or tickets…log on to our website- www.pirategathering .com
SCHEDULE:
Friday 13th Nov…………
9.00am School tours through Historical section at the De Mesa Yard at the Spanish Colonial Village…adult/child fee (Buc-an-ear) $2.00….Demonstrations include Knot tying, Sailing and Navigation, weapons displays, typical sailor fare,(food ) trades aboard sailing vessels(Coopers/carpenters/medical) Privateers stories and more
Francis Field opens at 10.00am with the floats arriving and more demonstrations and Vendors and concessions
5.00pm-7.00pm Captains meeting at Main Tent Tavern
Announce best Historical camp. Prize
7.00pm…………..Pub Tour of Downtown Leaves Main Tavern
Saturday Nov 14th…..
9.00am St Francis Field open all day until 5.00pm Fee A-Buc-anear" ($2.00) per person….with float displays (Vote for the best) Raffles, Kids games, Pirate Olympics
2.30pm, Music on main stage of Nautical theme all day/Magic/Vendors and Historical Displays at the Spanish Quarter on George St. Downtown
11.00am Privateers Parade Castillo/Bayfront/Cathedral/Cordova back to St Francis Field
12.30am Battle at Orange St ReDoubt Will the Military Kill get the pirates? Field 2.30pm The Wench Games..This is fun watching or participating.
3.30pm judging for best Tables Main Tent
4.30pm judging of Float entries announced
5.00pm……*Field closes for Invited/Paid Buccaneer Bash finish 11.pm…"Meat Feast dinner with "Rusty Cutlass" and Royal Spanish Court and surprise pirate bands
Music on the Field includes…Love and money" …Bone Island Songsters…Pirate Dinner Theater… Black Belamy All Sea shanty and Celtic and pirate Theme bands
Sunday Nov 15th…….
10.00 am Field opens to public /Pirate Court
11.00 am Displays and Games Pirates are coming to play in our Historic City!!!
So come and welcome the Brethren and Privateers from all over the Eastern Seaboard
Let us know what you think >>