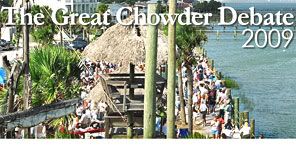 Historic City News has received an invitation for our readers to join more than 30 area restaurants who will compete this Sunday, November 1st, for the Best Chowder Award during the 25th Annual Great Chowder Debate.
As in past years, the event will be hosted at the Conch House Marina located at 57 Comares Avenue off Anastasia Boulevard and is presented by the St. Augustine Shrine Club; with all proceeds benefiting the Shriner's Hospitals for Crippled Children.
Enjoy free live entertainment featuring the sounds of Brian Turner and take advantage of the opportunity to sample many chowder varieties from local favorites, such as Menorcan chowders, to an assortment of New England chowders.
Each year local restaurants vie for the coveted "best chowder" title through their unique blends made from clams, conch, lobster, scallops and crab; all laced with secret concoctions of herbs and spices.
Admission to the Chowder Debate is free. Tickets to sample chowders are 50 cents each. Gates open 12:30 p.m.
Let us know what you think >>