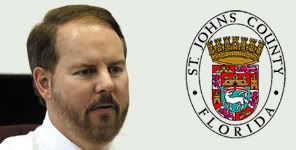 The St. Johns County Office of Management & Budget furnishes Historic City News with a quarterly Performance Measures Report to measure the performance of county programs and activities.
The quarterly report is given by the Office of Management and Budget to the County Administrator who presents it to the Board of County Commissioners and distributes it to the public.
According to County Administrator Michael Wanchick, he has given county performance measures reporting an increased emphasis since the report was initiated in 2008.
Wanchick believes that the measures used are reliable, verifiable and understandable — reflecting the central goals of each county department. The Office of Management and Budget report measures meaningful trends to provide for comparisons over time.
Although the quarterly report isn't intended to be conclusive, Wanchick believes that it accurately highlights department measurements which helps provide a comprehensive overview of county services — without becoming overwhelming.
The Office of Management & Budget has completed the 2009 Third Quarter Performance Measures Report and the 2009 Fourth Quarter Performance Measures Report will soon be in process, Wanchick says.
The completed third quarter report — ending June 30, 2009 — can be reviewed at this link.
Let us know what you think >>