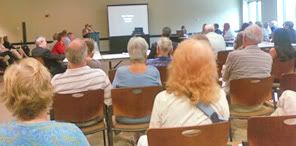 Historic City News has learned that formal organization for upcoming 450th commemoration events begins tomorrow with a public meeting of the 450 Steering Committee and Consultant Mayor Jeanne Zeidler.
While the session, from 1:30 – 3:30 p.m. at Flagler College's Ringhaver Center, is open to the public, it's expected to be centered on discussion within the 14-member Steering Committee and their questions for Zeidler, Williamsburg VA Mayor and executive director of the Jamestown 2007/400th Commemoration.
"Our Steering Committee includes leaders from throughout our community," City 450th Commemoration Executive Director Dana Ste. Claire said. "I expect they'll be asking what role their counterpart agencies or organizations played in the Jamestown 400th."
Ste. Claire, who will make a presentation along with Mayor Joe Boles and Mayor Zeidler, said he hopes an organizational framework can be set for next steps in the process.
One major step: "The Public Lands bill (including $500,000 a year through 2015 for commemoration activities) has cleared Congress and is a public law," Ste. Claire said. "We are just waiting for the appropriation to be formalized, as well as the appointments to the Federal Commission."
Photo credit: Merrill Paul Roland
Let us know what you think >>