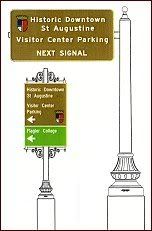 George Gardner reported to Historic City News through The St. Augustine Report that a $480,000 design and build contract is going before the City Commission for approval Monday night, signaling a start to the long-awaited highway signage that will direct traffic to the Historic Downtown Parking Facility.
The Heritage Signage Program was developed as part of the parking facility plan and includes both vehicle signage to our parking facility and wayfinding signage within our historic district.
Commissioners will consider a contract to install larger cantilever and single pole signage on major highways onto and along US 1. Optional single pole signs could be set along Avenida Menendez and on SR 312 at SR 207 and at A1A directing traffic from St. Augustine Beach.
Base cost is $480,257, with another $111,000 in optional additional signage.
State and federal monies and a portion of the parking facility bond will finance the highway signage project.
Earlier designs had to be modified to meet Florida Department of Transportation standards, but the new design retains distinctive decorative features.
Pedestrian wayfinding signage is yet to be tackled.
Share your thoughts with our readers >>