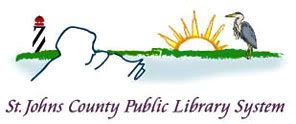 Historic City News has learned that the St. Johns County Public Library System has invited the community to join together in the enjoyment of reading and the 4th annual ST. JOHNS READS program during the entire month of February.
This year ST. JOHNS READS activities will focus on The Camel Bookmobile, a novel by Masha Hamilton about a librarian who leaves Brooklyn to deliver books to forgotten villages in Africa.
The Camel Bookmobile is fictitious, but based on an actual Camel Bookmobile in Kenya almost a decade ago. To people in villages that lacked roads, clean water and food, books were "rare and precious gifts, allowing them to briefly escape the reality of squalor and destitution."
A variety of ST. JOHNS READS programs will be offered at libraries throughout the month of February, including keynote author talks featuring Masha Hamilton herself at the branch libraries February 27 and 28. Please see the complete calendar of events below.
To prepare for the upcoming ST. JOHNS READS events, community members are encouraged to read The Camel Bookmobile, available now at the library.
St. Johns County Library Director Debra Rhodes Gibson believes this is a unique opportunity to unite the local community. "ST. JOHNS READS is a quality reading and learning experience that can bring together people from all across our community," she said. "We like to think of it as a book club for the entire County, whether you're in Ponte Vedra, Hastings, St. Augustine, or anywhere in between."
Funding and support of ST. JOHNS READS is provided by the Million Penny Drive held by all six Friends of the Library groups. Additional support is provided by the funds raised during the inaugural Florida Heritage Book Festival (FHBF), held in St. Augustine during September. FHBF Chairperson Kathy Dvornick was pleased to provide $7,000 from the festival to support library programs.
For more information about ST. JOHNS READS or its upcoming programs, contact Library Administration at (904) 827-6925.
ST. JOHNS READS 2009 – CALENDAR OF EVENTS

Dessert & Discussion:
Join us for a lively discussion of The Camel Bookmobile by Masha Hamilton. Light refreshments will be served.

Hastings Branch – Feb 4th at 10:00 AM
Ponte Vedra Beach Branch – Feb 7th at 11:00 AM
Anastasia Island Branch – Feb 12th at 7:00 PM
Main Library – Feb 19th at 10:30 AM
Southeast Branch – Feb 21st at 2:00 PM
Bartram Trail Branch – Feb 24th at 7:00 PM
Hastings Branch – Feb 25th at 10:00 AM
Southeast Branch – Feb 26th at 6:45 PM

Abrakadoodle:
Kids can join the St. Johns Reads excitement by making African crafts at the library! Contact each branch for age and registration details.

Anastasia Island Branch – Feb 7th at 1:00 PM
Southeast Branch – Feb 7th at 3:00 PM
OUR Center of Hastings – Feb 11th at 3:00 PM
Ponte Vedra Beach Branch – Feb 12th at 4:00 PM
Main Library – Feb 18th at 4:00 PM
Bartram Trail Branch – Feb 25th at 3:00 PM

A View of How Libraries are Reaching Their Customers Around The World:
Join Dr. Christie Koontz, Florida State University Professor, Marketing and Management Expert, and Third World Literacy Advocate as she shares what libraries in other countries are doing to reach old and new customer markets and improve literacy world-wide.

Anastasia Island Branch – Feb 10th at 6:00 PM

Meet the Author – Masha Hamilton:
The author of The Camel Bookmobile will discuss her novel, its origins, and her travels in Kenya.

Bartram Trail Branch – Feb 27th at 2:00 PM
Ponte Vedra Beach Branch – Feb 27th at 6:00 PM
Southeast Branch – Feb 28th at 10:00 AM
Anastasia Island Branch – Feb 28th at 2:00 PM

World Dance by Samsara
Celebrate St. Johns Reads with rhythm and culture! Samsara, a local dance troupe specializing in dances from around the world, will be performing Middle Eastern and African dances. Don't miss this exciting opportunity to learn about world cultures through dance.

Main Library – Feb 28th at 3:00 PM
Let us know what you think >>