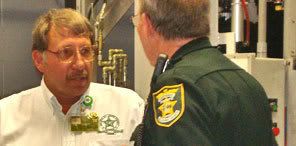 Sheriff's spokesman Kevin Kelshaw reported to Historic City News that on Veterans Day, the Youth Services Unit of the St. Johns County Sheriff's Office conducted an alcohol compliance detail as part of "The Party's Over" campaign.
A 17-year old female investigative aide attempted to purchase alcohol at 26 local establishments throughout the county. The Aide was served alcohol at 5 out of the 26 businesses; representing a 19% non-compliance rate.
The aide would produce her actual identification if asked and state her true age if requested.
The Sheriff's Office filed charges of selling, serving or giving alcohol to a person under the age of 21 against each of the subjects who served alcohol to the aide. The Division of Alcoholic Beverages and Tobacco will be notified of the results of the campaign for potential further administrative investigation.
The establishments where clerks were charged with selling alcohol to a minor were:
Mango Mango Bar & Grill, 4010 U.S. 1 South, Suite 101
JP Henley's, 10 Marine St.
Tap's Bar and Grill, 2220 C.R. 210 W, Suite 314
The Sandbar, 7025 A1A South
*BP, 125 Center Place Way, Suite 101.
*This was the second time in 15 months that a clerk at the Center Place Way BP sold alcohol to an underage Investigative Aide.
Clerks at the following businesses refused to sell alcohol to the investigative aide: Kangaroo Express, 4760 U.S. 1 North; BP, 4540 U.S. 1 North; Speedway Foodmart, 4401 Lewis Speedway; PJ Liquors, 3551 N. Ponce de Leon Blvd., Suite K; Kangaroo Express, 224 San Marco Ave.; Mardi Gras, 123 San Marco Ave.; T of St. Augustine, 52 San Marco Ave.; Gigglin Gator, 121 King St.; Kangaroo Express, 4205 U.S. 1 South; Panama Hatties, 361 A1A Beach Blvd.; Kangaroo Express, 6705 U.S. 1 South; M & M Market, 102 Bridge St.; King Food Mart, 667 W. King St.; Citgo, 2110 U.S. 1 South; The End Zone, 2446 U.S. 1 South; BP, 2499 U.S. 1 South; Hess, 2505 U.S. 1 South; Citgo, 2800 U.S. 1 South; A & S Discount Liquors, 4010 U.S. 1 South, Suite 109; Sunset Grill, 421 A1A Beach Blvd.; and Kangaroo Express, 123 King St.
Let us know what you think >>