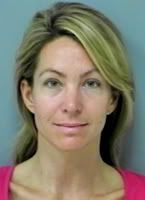 Historic City News first published a driver's license photograph of Quinn Hanna Gray on September 8, 2009 — while Sheriff's deputies continued their search into Gray's disappearance when she did not return to her Ponte Vedra Beach home as expected.
Today we are publishing a different picture of 37 year-old Gray — her booking photo.
St. Johns County Robbery Homicide detectives arrested the Ponte Vedra Beach woman yesterday afternoon and she is being held at the County Jail in lieu of $1,000,000 bond.
Gray claimed that she was kidnapped from her home at 403 Ponte Vedra Boulevard; and now, less than two weeks later, she has been arrested and is charged with extortion.
Gray allegedly fabricated an elaborate kidnapping plan in an effort to extort $50,000 from her husband.
The investigation began on Friday, September 4th, when the Sheriff's Office discovered a ransom note demanding $50,000 in cash.
The ransom letter, located at the residence, stated that Quinn Gray was kidnapped and warned her husband not to involve law enforcement. The letter went on to say that the kidnappers were watching his every movement.
A statewide search for Gray ensued.
There were numerous contacts by phone between Gray and her husband seeking the money. Several attempted "drops" of the money were planned, however, due to unforeseen circumstances, they never materialized.
On one occasion a drop was made, however, four college students from Georgia picked up the bag. The students realized that the bag contained money. They observed surveillance units following them and they were afraid that they were being followed by drug dealers. They pulled over and called police. The money was returned.
Gray was located in Clay County on Monday, September 7th, by Clay County deputies and she was returned to St. Johns County.
During the investigation she continued to claim that she was kidnapped, however, inconsistencies led detectives not to believe her story.
Gray's alleged accomplice, identified as Jasmin Osmanovic, was located last Monday at a warehouse in the 8800 block of Corporate Square in Duval County.
Osmanovic was brought in for questioning and was charged with extortion. Osmanovic claimed that he has known Quinn Gray for over a month and the kidnapping plot was her idea.
Osmanovic claimed they spent the weekend together at various locations in Duval County and that she was left alone by Osmanovic on numerous occasions.
Detectives have obtained evidence indicating that the two knew each other prior to the Labor Day weekend as well as a detailed "rehearsal" by Quinn Gray of the incident.
Let us know what you think >>