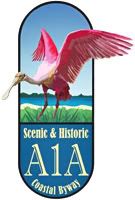 Sallie O'Hara, Byway Program Administrator, reported to Historic City News this weekend that The Federal Highway Administration announced the awards for the 2008 grant applications in December.
Friends of A1A Scenic and Historic Coastal Byway and partners were awarded $853,932 for all four projects requested. The local award represents 16% of the total funds awarded to Florida applicants.
Only 11 out of 20 projects submitted for Florida were awarded funding. The award process requires community management coordination among various partners who oversee and monitor implementation of the Corridor Management Plan for the nationally designated scenic roadway.
Marianno Barrios, State Scenic Byway Program Coordinator, extended congratulatory praise to those funded.
Federal Highways released appropriations to the states and contract preparation has begun for the projects that will begin in July 2009. For the second year in a row Florida was the top recipient of applicants in the nation – a record broken twice! The state received 70% ($3.87 million) of funds requested ($5.53 million).
Sallie O'Hara, Byway Program Administrator, is delighted that the young nonprofit is gaining such credibility and support from governmental partners and community supporters. This is a 9.5% increase over the 2007 grants. The A1A Byway has received over $3.9 million dollars in funding since 2000. Most of those funds have gone into facility improvements at parks.
The National Scenic Byway Program allows for eight categories of project activities. Awards are based upon local advocacy support, state highway review committee rankings and national review evaluations. National Scenic Byway Program grants require 20% local match from various partners.
This year's Federal funds awarded to A1A projects include:
$373,520 for a project to construct a gateway boardwalk promenade with ADA facility enhancements for Byway travelers at the A1A roadway in Flagler Beach. The City of Flagler Beach leaders committed $93,380 cash match to complement ongoing historic downtown improvement projects to enhance the scenic access with boardwalk overlooks to the Coastal Atlantic recreational area. FDOT and the City of Flagler Beach are now coordinating work scheduling for this and other engineering projects.
$50,000 for a project to design and implementation of an interpretive Cell Phone Tour accessible at all points along the 72 mile A1A Byway. Friends of A1A will provide match of $16,000 to lead volunteers in scripting, posting and maintaining audio interpretive messages for travelers at over 45 designated points of interest for the byway traveler in St. Johns and Flagler Counties. Messages will be pertinent to historic, archeological, scenic, recreational, cultural and natural intrinsic features at museums, parks and historic municipalities along the Byway.
$120,000 for consulting services to develop a comprehensive master plan for a Wayfinding /Wayshowing Signage system for the 72 mile corridor inclusive of FDOT compliance requirements and maintenance agreements from byway partners. This byway project is to extend the completed St. Johns plan into Flagler County and standardize interpretive signage along the A1A Scenic & Historic Coastal Byway. Design, style and placement of wayfinding signs including directional signs, reassurance signs, signs to byway features, and orientation kiosks will be planned. The plan will incorporate the Byway logo and enhance the visual character of the roadway. Friends of A1A will facilitate match in the amount of $55,000 by engaging citizens in the planning process.
$80,000 for Byway positions necessary to sustain the Corridor Management Plan to implement projects and improvements. Friends of A1A will provide community volunteers as match valued at $20,000 to promote the Byway plans.
Barbara Jenness, President of Friends of A1A, stated the awards were most impressive given the level of this year's competition. "We have been working hard for years to improve A1A and now we are really beginning to see some physical results!" The group hopes these projects will prominently place the A1A Scenic & Historic Coastal Byway on the area maps as a destination unto itself. Travelers may already be noticing many parks under construction and roadways being improved.
The State Highway Advisory Committee (SHAC) is reviewing 2009 National Scenic Byway proposals this week for submission to Federal Highways by March 13, 2009. O'Hara stated this cycle request totals $340,500 for further marketing and program development.
Awards under the National Scenic Byways Program for fiscal year 2008 are authorized in Section 1101(a)(12) of the Safe, Accountable, Flexible, Efficient Transportation Equity Act: A Legacy For Users (SAFETEA-LU). A list of all projects can be viewed at http://www.bywaysonline.org.
The Friends of A1A Scenic and Historic Coastal Byway is a nonprofit organization that protects, preserves, and enhances resources along the A1A National Scenic Byway.
This citizen's advocacy group partners with municipalities, governmental agencies and other civic groups to maintain and improve resources along the corridor. Designated in 2002, the A1A Coastal Byway is one of 125 roadways in the America's Byways collection and stretches 72 miles along the Northeast Florida Atlantic Coast, traversing St. Johns and Flagler Counties.
The Byway is rich in history, nature, archeology, culture, scenery and recreation. The Friends of A1A benefit residents and travelers by protecting, preserving, enhancing and maintaining the identified intrinsic resources while allowing economic development.
Share your thoughts with our readers >>