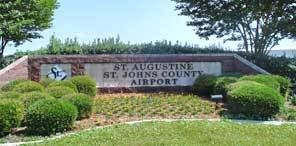 St. Augustine – St. Johns County Airport Media Representative Cindy Hollingsworth has reported to Historic City News that the St. Augustine Airport is pleased to welcome the U.S. Customs and Border Protection Services to our local airport.
The availability of U.S. Customs and Border Protections Services related to general aviation international flights, began on February 12, 2009, from their new facility at the St. Augustine Airport.
The Airport has achieved "USER FEE" airport status effective this month.
This designation will allow direct aircraft return flights to the St. Augustine Airport from foreign countries without the necessity of first stopping at a port of entry.
Users of this service are required to first obtain an 'Overflight Permit' from US Customs and Border Patrol.
For 'Overflight Permit' application processing, fee schedule, and international arrival/departure forms and procedural information, contact the local office at U.S. Customs & Border Protection Services, St. Augustine Airport, 396 Estrella Avenue St. Augustine, FL 32095 or call their office at (904) 209-0099.
The new office will be open for operations Thursday through Monday, 11:30 a.m. until 8:00 p.m. (Eastern)
Background and Timeline
• Airport Authority – Program Launch – April 2007
• Application filed with US Customs and Border Protection – May 2007
• FDOT Grant – October 2007
• Passero Associates – Contract Award, Project & Design Engineer – November 2007
• KP Meiring Company – Contractor – October 2008 through February 2009
• New 3000 sq. ft facility featuring US Customs, Immigration and USDA Inspection Services
• Facility supports arriving general aviation flights up to 30 passengers
• February 12th, 2009 first full day of operations
Benefits to St. Johns County
• Provides alternative location for general aviation aircraft to re-enter the United States
• Enhanced county economic impact expected, drawing new users from around the world to purchase fuel, goods, and other services
• New exposure to St. Augustine through media promotion
• Increased potential for business and corporate relocation to St. Johns County for highly desired convenience of US Customs and Border Protection Services
• Enhanced visibility of St. Augustine and St. Johns County in global marketplace
FEE SCHEDULE
Single Engine – Piston Aircraft – $ 50.00
Twin Engine – Piston Aircraft – $100.00
Single or Twin Engine Turboprop Aircraft – $150.00
Turbojet or other Turbine Powered Aircraft – $250.00
Scheduled Commercial Service (FAR Part 135 or 121 – with 30-seats or fewer) Aircraft Type plus $10 per PAX
Arrivals outside of normal days/hours are subject to availability with advance arrangement required and subject to additional overtime fee of $150.00. Contact U.S. Customs directly at St. Augustine Airport to request assistance.
Let us know what you think >>