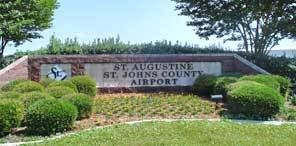 Historic City News has learned that the St. Augustine-St. Johns County Airport will get $2.6 million in federal stimulus package money.
The grant will come from the Federal Aviation Administration and will be used to rehabilitate and widen a taxiway and replace its lights.
"This administration is committed to getting the U.S. economy going again and these grants are part of making that happen," said Ray LaHood, U.S. Secretary of Transportation. "We're ahead of schedule in distributing recovery funds for our aviation system, putting people back to work in the St. Augustine area while improving the safety of our nation's airports and runways."
About 3,400 airports are eligible for funding through the American Recovery and Reinvestment Act.
The FAA got $1.1 billion under the act and will spend it on projects targeting airport safety, infrastructure, capacity and environmental impacts.
Let us know what you think >>