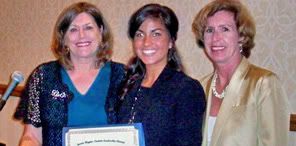 Media Specialist Liz Daube reported to Historic City News that Flagler College senior Jamie Alvarez recently received a leadership award from the Enterprising Women's Leadership Institute of Florida.
The Enterprising Women's Leadership Institute is an organization that identifies, trains and supports women as business community leaders.
Alvarez was recognized March 21 at the institute's International Women's Day Celebration luncheon, held at the Renaissance Resort in World Golf Village.
She has been involved in a variety of activities throughout her time at Flagler College. She served as an intern in the office of U.S. Sen. Mel Martinez, writing constituent letters and representing him at events.
As managing partner of the student-run Dow Advantage Public Relations Group, Alvarez coordinated the 2008 St. Augustine Amateur Golf Tournament and organized First Tee's first Ambassadors Night Gala, raising $12,000.
She also volunteers with The Girl Effect, St. Augustine Youth Services and as a Flagler writing center tutor.
"An organization like EWLI is crucial to the development of our young female leaders, and I'm so grateful to have been recognized in my community," Alvarez said. "This honor has inspired me to encourage other women to obtain their goals, it has deepened my passion for what I do, and it has given me the support I need to accomplish even more."
Alvarez was the first college student to receive the leadership award.
Flagler communication professors Tracy Halcomb, Ph.D., James Pickett, Ph.D., and Rosemary Tutt attended the luncheon, as well as Alvarez's sister, Genie Mogollon, and her mother, Maria.
Leslee Keys, Flagler's director of corporate, foundation and government relations, and Adele Griffin, Sen. Martinez's North Florida regional director, also came to support Alvarez.
"Jamie is a good student, has taken on numerous leadership roles in campus organizations and is a genuinely nice person," Halcomb said. "With her positive attitude and professional skill set, I expect to be hearing great things about Jamie in the future."
Let us know what you think >>