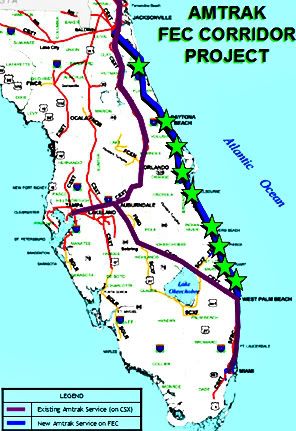 City Commissioner Nancy Sikes-Kline reported to Historic City News that more than 100 resolutions and letters have been adopted by public and private organizations in support of the proposed east coast Amtrak FDOT passenger rail project.
These include city and county commissions, MPO boards, regional planning councils, chambers of commerce, tourist development councils, merchants' associations, state-wide organizations and others.
St. Augustine was home to the first railroad depot outside Jacksonville more than a century ago; however, if given the go-ahead, this will be the first-time passengers have ridden on FEC rails since 1968.
Initially, two trains would be running northbound and southbound; however, this could grow to 4 – 6 trains daily. Early forecasts indicate the new passenger rail service would experience up to 250,000 annual riders. The trip between Jacksonville and Miami should take roughly 6 hours.
Amtrak and the Florida Department of Transportation (FDOT) plan to apply for stimulus funding to restore intercity passenger service affecting 326 miles of Florida's east coast on the FEC Corridor from Jacksonville to Miami. The Florida Department of Transportation project is Florida's only ARRA transit application in partnership with a national entity (Amtrak).
If approved, the $120 million dollar passenger rail project will implement redevelopment plans, increase "stay-cations" (vacations within Florida for Floridians), increase local spending and provide immediate construction jobs along the entire east coast of Florida.
The application projects near-term job creation to establish 8 new passenger train stations to be constructed in St. Augustine, Melbourne, Daytona, Vero Beach, Titusville, Fort Pierce, Cocoa and Stuart as well as economic stimulus for Florida's workforce, businesses, and national and international tourism industry. According to Sikes-Kline, "The U.S. 1 location (across US 1 and north of the City's Fire Station) was chosen as the St. Augustine station location".
The new Amtrak/FEC corridor project will provide rail transit service to 8.3 million Floridians in Duval, St. Johns, Flagler, Volusia, Brevard, Indian River, St. Lucie, Martin, Palm Beach, Broward & Miami-Dade counties. This population is projected to grow to over 10 million by 2020.
Sikes-Kline says, "This is a high profile green project with loads of citizen support". In addition to being an immediate traffic reliever for I-95, the Amtrak project is part of Florida's statewide transit network which will improve mobility, reduce carbon emissions and reduce dependence on foreign oil.
According to a report submitted by the Florida DOT & Amtrak on the high-speed inter-city passenger rail program, the entire rail project gets built for about $350,000 per mile as opposed to most passenger rail projects which come in at the $5 – 10 Million per mile range. "This project, as part of the federal stimulus package for Florida, is a bargain as far as rail goes", Sikes-Kline said.
The report goes on to predict that Amtrak's inaugural passenger train run on FEC rails is likely to become a significant media event — scheduled to be completed in October 2012; just in time for the November 2012 elections.
Let us know what you think >>