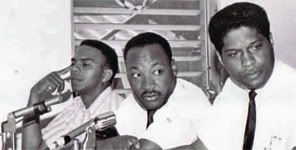 The 40th ACCORD has extended an invitation to Historic City News readers to attend a reception for former U.S. Ambassador to the United Nations, Andrew Young.
Young, shown in this 1964 photograph sitting next to Dr. Martin Luther King, Jr. and Dr. Robert B. Hayling at a press conference held in St. Augustine, is a leader of the Southern Christian Leadership Conference (SCLC) and former Mayor of Atlanta, GA.
This special meet and greet event is scheduled to be held on Wednesday, October 21, 2009, between 7:00 P.M. and 8:30 P.M. and will be hosted by Rev. Michael McConnell, Pastor, at the First Baptist Church located at 89 St. Francis St.
Special Guest speaker for the evening will be Dr. Robert B. Hayling, "Father of the Civil Rights Act of 1964".
Please Contact Gwendolyn Duncan, (386) 986-4121, for more information as there will be limited seating. Refreshments will be served.

Photo credit: Copyright © 2009 The 40th Anniversary to Commemorate the Civil Rights Demonstrations, Inc.
Let us know what you think >>