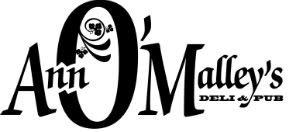 Historic City News has learned that on Saturday, August 1st, 2009, commencing at 11:00am 'til closing, Ann O'Malley's Irish Pub and Deli will celebrate their first anniversary.
Ann O'Malley's Irish Pub and Deli is located at 23 Orange Street and is operated by John Cunningham, USN RET & Sherri Cunningham, along with their family and honored staff.
August 1st festivities are scheduled to include: Anniversary drink and food specials, Live music with 'Tony & Gina Cuchetti' & 'Collapsible B', plus 1000 toasts for future success!
Ann O'Malley's Irish Pub and Deli says that they can't fit such an occasion into only 1 day, so they are inviting guests to celebrate the entire month of August with their featured Anniversary Specials: St Teresa's Gaelic Ale & St Teresa's Pale Ale – two very special microbrews on offer at only $3.50 to celebrate a very special 1st year!
Guests are invited to bring their O'Malley's memories and Irish Spirit to celebrate all that is Ann O'Malley's, St. Augustine's oldest Irish Pub.
Let us know what you think >>