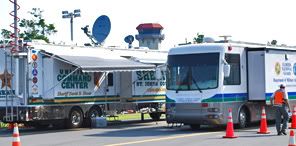 Military and civilian operators have joined forces at the St. Augustine and St. Johns County Airport today to conduct high-tech training exercises and Historic City News was there.
Today's evaluation exercises provide a scenario based live training event as part of an external evaluation process that is conducted by the 44th Civil Support Team every 18 months.
Civil Support Team members receive more than 600 hours of training by agencies such as FEMA, Department of Energy, Department of Justice and the Environmental Protection Agency. They can identify chemical, biological, radiological and nuclear agents and substances, assess current and projected consequences, advise on response measures and assist with requests for additional support.
The scenario being evaluated today is that a radical group has infiltrated the St. Augustine and St. Johns County Airport with the intent of stealing an airplane to be used to disperse weapons of mass destruction over civilian targets in the St. Augustine area.
For the purpose of today's training exercise, airport personnel have spotted the radicals and the St. Johns County Sheriff's Office has intercepted them; killing four and capturing two.
In capturing the radicals, Sheriff's deputies discover weapons of mass destruction and withdraw from the scene; establishing an Incident Command and calling in the Civil Support Team for support.
The Sheriff's Mobile Operations Center is acting as the Incident Command; a member of the Sheriff's Office is serving as the Incident Commander and is working in close coordination with the Army evaluation team.
The purpose of Civil Support Teams, which contain both Army and Air National Guard personnel, is to be ready to deploy rapidly to assist a local incident commander in determining the nature and extent of an attack, to provide expert technical advice on weapons of mass destruction and to help identify and support follow-on state and federal military agencies.
There are 57 Civil Support Teams located throughout the country. The 44th CST was founded in 2000 and certified in January, 2002. An advance team is deployable within 90 minutes and a regular team is deployable within three hours according to information provided to Historic City News at the scene this morning.
The Incident Commander in today's exercises assigns missions to the Civil Support Team and monitors the CST as they conduct those missions during the evaluation.
According to a press release received from the Florida National Guard this morning, "Exercises provide invaluable experience in working with these civilian organizations. Learning their capabilities and procedures will better enable not only the CST in their mission, but the entire WMD response Team – first responders, civilian and military – to function as a well trained team that will save lives."
Photo credits: Historic City News staff photographs
Share your thoughts with our readers >>