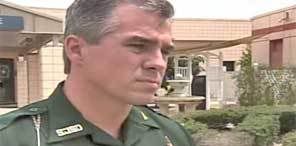 Sgt. Chuck Mulligan reported to Historic City News that along with St. Johns County Marine Rescue, the Sheriff's Office responded to the area of the 1100 block of Ponte Vedra Boulevard, regarding an apparent drowning incident around 4:00 p.m. yesterday.
According to eyewitness accounts, 17 year-old Jarrel Stewart of Jacksonville, Florida had entered the ocean to swim with his companion just South of the county beach parking area.
Deputies at the scene learned that Stewart's girlfriend became caught in a rip current and Stewart swam out to assist her.
Stewart's girlfriend said Stewart was swept under the surface of the water by a wave and did not resurface.
Resources from The Sheriff's Office, St. Johns County Marine Rescue and The U.S. Coast Guard responded in an attempt to locate Stewart.
Both St. Johns County Marine Rescue and The Sheriff's Office will continue to patrol the beach via 4 wheel drive vehicles throughout the night in an effort to locate the apparent drowning victim.
Stewart is a black male and was reportedly wearing an Orange bathing suit at the time he was last seen.
Residents along the beaches area are asked to contact their local law enforcement agency with any potential sightings.
Share your thoughts with our readers >>